Specology – Zu einer ästhetischen Forschung
Seit über drei Jahren forscht das Team SpecSpace über und mit Hilfe von spekulativen Zugängen zu Wissen und Denkentwürfen. Im Herbst diesen Jahres erscheint dazu ihr Buch "SPECOLOGY – Zu einer ästhetischen Forschung".
Der Begriff der Spekulation ist erst vor kurzem im Feld ästhetischer Praxis aufgetaucht. Er entfaltet aber eine bemerkenswerte Wirkung und löst eine neue Form der gestalterischen, künstlerischen, provokativen, experimentellen Produktion und ästhetischen Forschung aus. Es entwickelt sich ein neues Verständnis von kollektiver, risikobereiter, hybrider Praxis. Diese Entwicklung führt zur Specology.
Mit der Specology als einer neuen ästhetischen Wissenschaft können wir uns auf ein ebenso imaginäres wie produktives Tableau begeben, auf dem sich erkennende und gestaltende Praktiken und Methoden (Gehweisen), Einsichtsformen (Anordnungen) sowie Medien und Materialien (Dinggefüge), chronopolitische Forschungsfelder (Ancient Futures) und Geisteshaltungen (Magical Expertise) tummeln.
Ziel des Buches ist es, die Potenziale und Herausforderungen von und für spekulative-ästhetische Forschung zu erfassen und diskursfähig zu machen – nicht nur auf einer begrifflichen Ebene, sondern auf vielen Ebenen ästhetischer und kritischer Praxis. Die Publikation greift den seit Mitte der 2000er geführten Diskurs um spekulatives Design auf, nähert sich diesem kritisch und liefert Anknüpfungspunkte für Wissens- und Denkpraktiken verschiedener künstlerischer, gestalterischer, philosophischer, kulturtheoretischer oder auch gänzlich außerakademischer Felder.
Die Publikation wurde im Speculative Space entwickelt, kuratiert, verantwortet, zusammengestellt, herausgegeben, durchgearbeitet, geformt von den Forschungskompliz:innen Anke Haarmann, Alice Lagaay, Tom Bieling, Torben Körschkes, Petja Ivanova, Frieder Bohaumilitzky und Barbro Scholz in Kollaboration mit den Grafikdesignerinnen von distaff studio und in Zusammenarbeit mit Stephan Kraus vertont.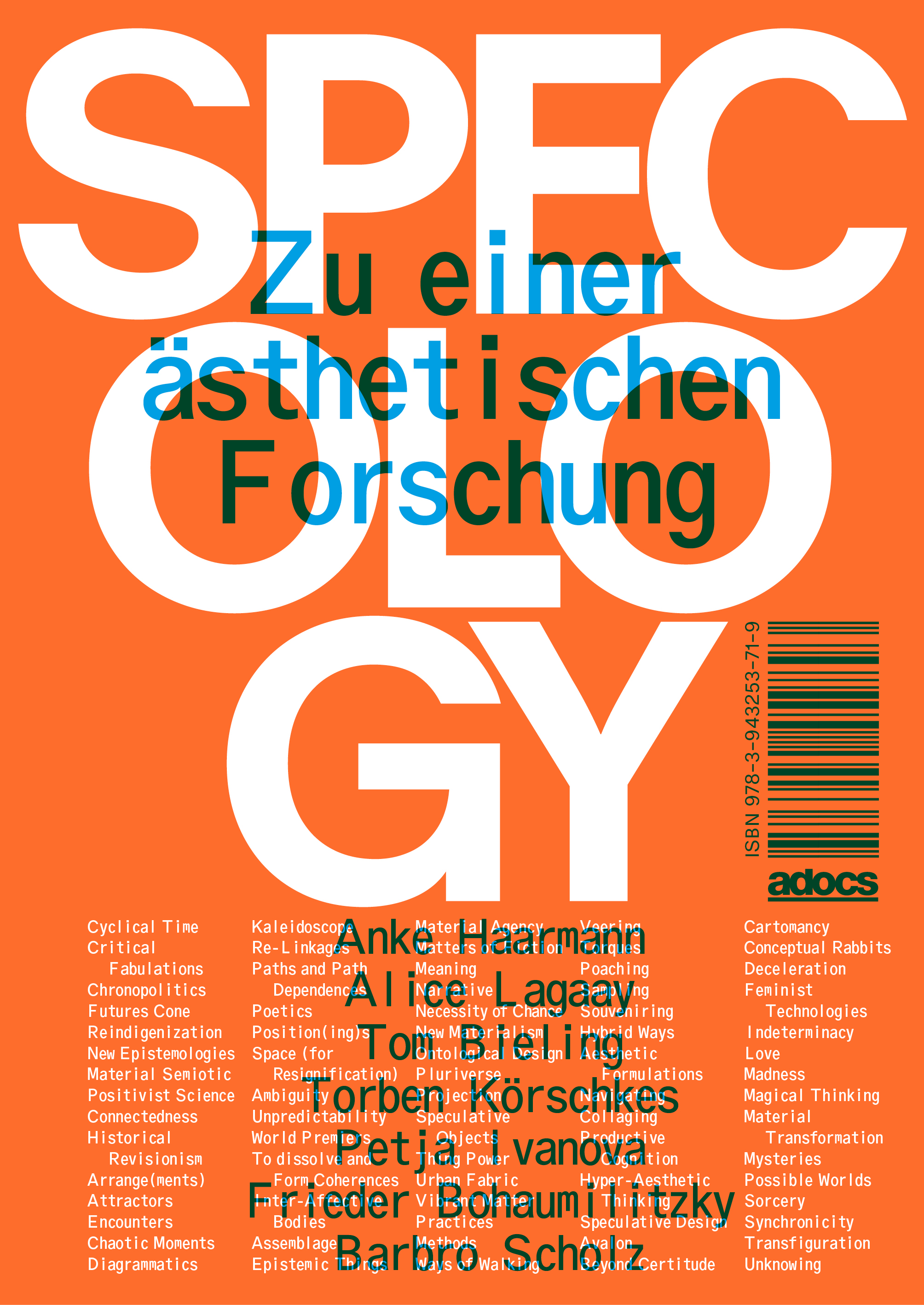 "Speculation" recently entered the field of aesthetic practice as a productive concept, triggering new forms of artistic, provocative, and experimental creation as well as aesthetic research. Turning towards the speculative generates new approaches to productively daring, hybrid and collective artistic and design research practices. Charting and channeling this development is the work of…Specology.
With Specology as a new aesthetic field, we enter a scene that is as imaginary as it is generative, in which cognitive and formative practices and methods ("Gehweisen"/"Ways of working"), forms of insight ("Anordnungen"/"Arrangements"), as well as media and materials ("Dinggefügen"/"Thing-Kings"), chronopolitical dimensions of research ("Ancient Futures") and attitudes of mind ("Magical Expertise") connect and intermingle.
Specology – Zu einer ästhetischen Forschung.
Erscheinungsdatum: 9/2023
Format: Softcover
Maße: 18 x 25 cm
Seiten: 420
Sprache: DE/EN
ISBN: 978-3-943253-71-9
Preis: 24,00 €
SpecSpace: Anke Haarmann, Alice Lagaay, Tom Bieling, Torben Körschkes, Petja Ivanova, Frieder Bohaumilitzky, Barbro Scholz (Hg.)