100 Years of Social Design – The Legacy of Victor Papanek
The fact that design today is arguably being negotiated as a subject of inclusion, social justice and sustainability more than ever before is due to one name in particular: Victor Papanek, Austrian-American designer, author, and educator, for his work in the field of socially and environmentally responsible design. His bestseller "Design for the Real World", first published in 1971 remains an influential work in the field of sustainable design today.
In it he argues that design should be focused on meeting the needs of people, rather than just being aesthetically pleasing. He also emphasizes the importance of designing for the environment, rather than exploiting it. Papanek believed that designers have a responsibility to create products that are not only functional but also considerate of the environment, society and culture. He argued that designers must understand the social, cultural and environmental context of their work, and design products that are appropriate for the people who will use them (cf. Kries et al. 2018).
Papanek also believed that design education should be more interdisciplinary, as he felt that designers should be educated about the social, cultural, and environmental context of their work (Clarke 2021). He argued that designers should be trained in fields such as anthropology, sociology, and ecology, so that they can understand the impact of their designs on society and the environment. He was also a strong advocate of designing for the disabled and marginalized communities. He believed that the design of products should be inclusive and accessible to all people, regardless of their abilities.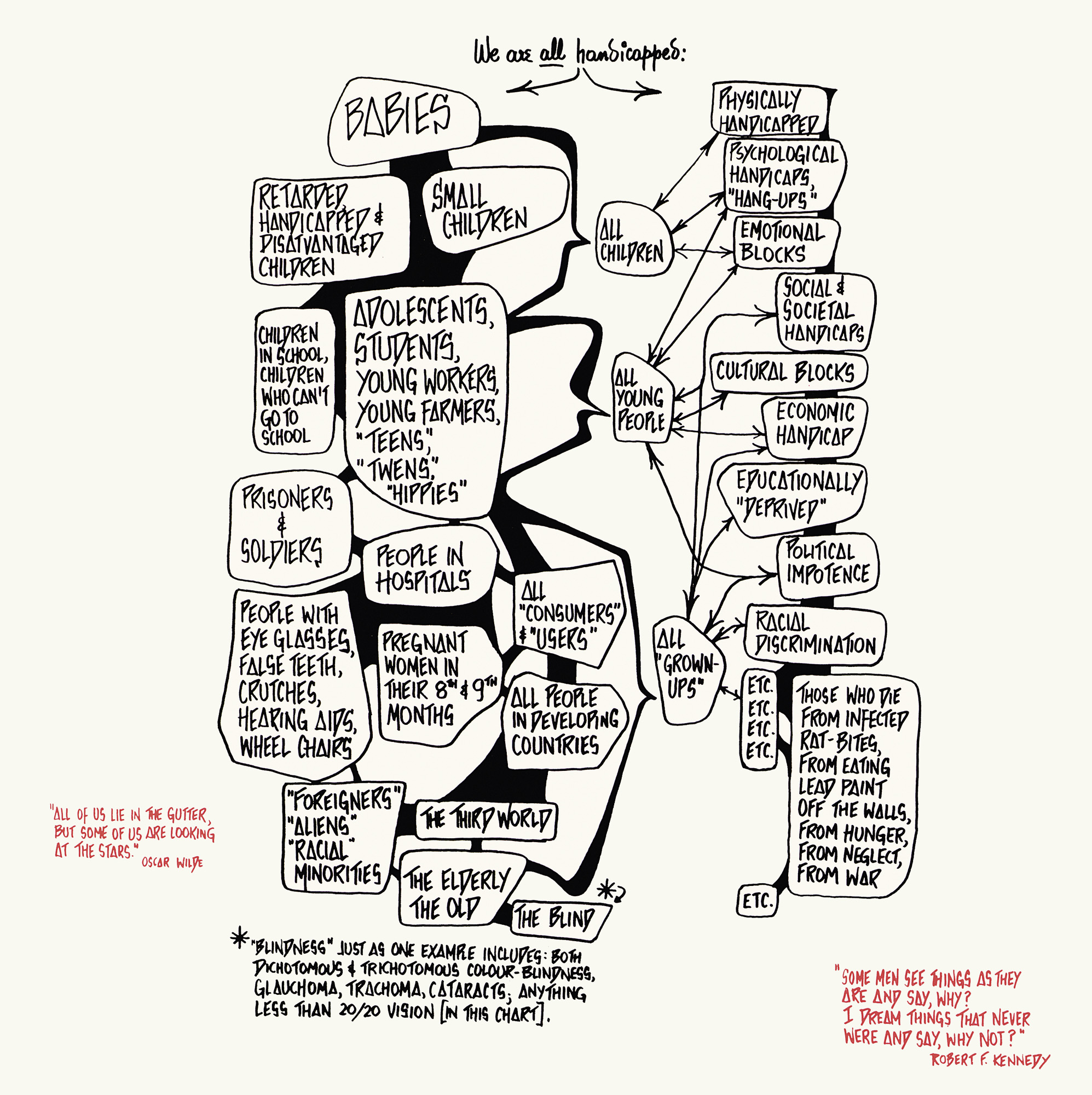 "We are all handicapped", Papanek Foundation / University of Applied Arts Vienna
Papanek's ideas have had a significant impact on the field of sustainable design, and his work continues to be influential today. "Design for the Real World" has been translated into many languages and continues to be read and studied by designers, students, and academics. Many design schools and programs have adopted Papanek's ideas, and have incorporated sustainable design principles into their curriculum.
Victor Papanek, would have turned 100 today. Many of the topics, tasks and approaches of post-industrial design formulated by him can be found today in the discourses around (newly strengthened) social design, which is mainly about changing society through design. His approaches, some of which seem more topical than ever today, will continue to be valid.
References
Clarke, Alison J. (2021): Victor Papanek: Designer for the Real World. MIT Press
Kries, Mateo / Klein, Amelie /Clarke, Alison J. (2018): Victor Papanek: The Politics of Design. Vitra Design Museum
Papanek, Victor (1971): Design for the Real World: Human Ecology and Social Change. Pantheon, New York.
Download & Citation Info
Zekry, Menna (2023): 100 Years of Social Design – The Legacy of Victor Papanek. DESIGNABILITIES Design Research Journal, (11) 2023. https://tinyurl.com/2ddhzb9k ISSN 2511-6274